I cast on a few new projects to take with me to Rhinebeck! Of course, I have more WIPs (works in progress) than just these, but most of those are currently in time-out…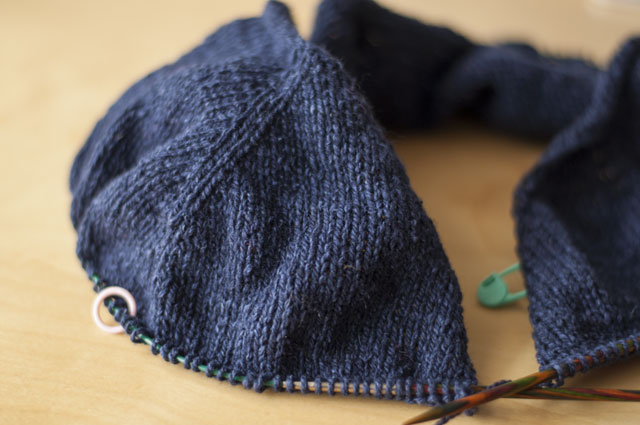 I've been loving all the swingy, fun tunic tops that have been available lately. They're perfect to wear with leggings (long enough to cover one's behind…if you're kinda short like me), boots, and handknit sweaters! When I was considering yarns for a handknit tunic dress, I knew it needed to be knit up in something fairly lightweight to help it keep its shape and not be too heavy or warm. Elspeth Lavold's Silky Wool is one of the lightest yarns I know of in a DK weight, with about 190 yards per 50g. I love the tweedy colours and pebbly texture, too. This one is worked from the top down with a v-neck, and I've got a few details floating around to add to it (big one: pockets).
I've been wearing my Ashworth Scarf a ton – nothing beats cashmere for lightness and warmth! I've had this Jade Sapphire grey cashmere for awhile, and I love it held together with the black Jaggerspun merino/silk. I want this bias-knit wrap to be nice and big!
My crazy colourwork sweater has been stagnating, but I'm determined to get it done to wear this winter – I'm almost up the armholes on the body. I started a sleeve to carry around with me, but it hasn't seen much action lately either.
I'm teaching at a retreat in Prince Edward County with Rosehaven Yarn Shop next weekend, so I'm also working up some new samples! Entrelac is fun. The gradient sample is knit flat in Eco wool, and the cowl is worked in the round in some scraps of Cascade 220.
What's on your needles this Halloween weekend?