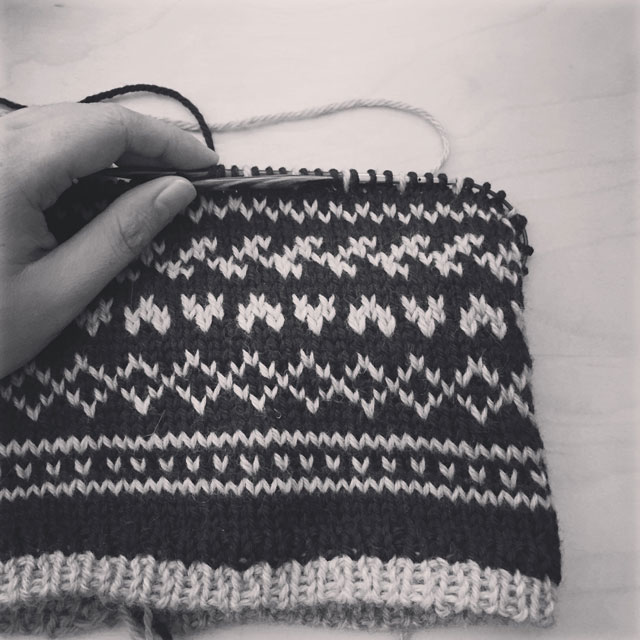 It's November?! I can't promise I'll blog every day in November, but I really would like to write here more, and it's a good kick in the pants.
I got it in my head that I wanted a new stranded colourwork hat pattern for my retreat class on the weekend, so here's a sneak peek! It's all peeries, which are small patterns of 1-7 rounds. After all the sweaters I've knit lately, it's quite lovely to work up a worsted weight hat, and this one is extra fun! I'm just about up to the crown shaping now. The pattern will be available for everyone in a week or two – I'm hoping to do some little handwarmers to match, or maybe full mittens? What do you think?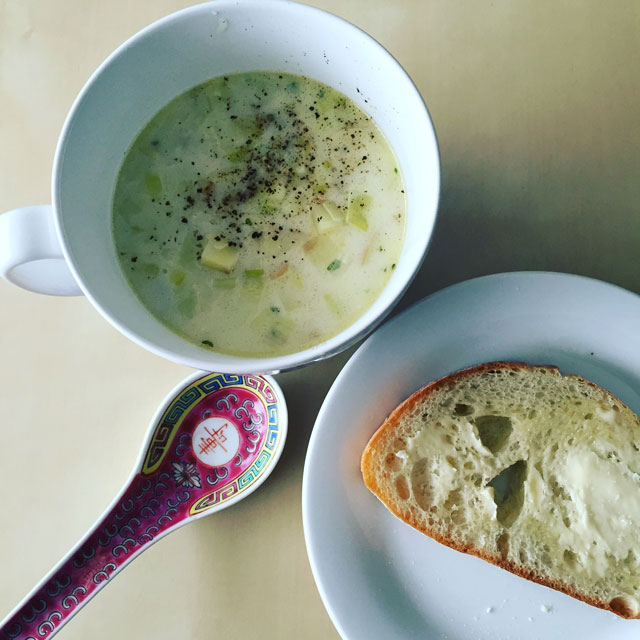 Eating
This leek and potato soup was yummy! My mods: more leeks, a mixture of unpeeled yellow and red potatoes (mini ones, because that's what we had), and a splash of heavy cream at the end. Delicious!
I really, really wanted cherry pie. I have a soft spot for canned cherry pie filling, but at $5/can I passed in favour of frozen sweet cherries for this pie. I looked at a few recipes, mostly this one. I don't think I've ever made a cherry pie before.
Things I would do differently next time / notes
– My crust was a little too crumbly for rolling out this time – but usually I'm pretty good at it. I do want to experiment with lard pie crusts!
– The sweet cherries are really big, so I would cut them up next time.
– Plus it was a bit too juicy, so I'd either cook the filling down a bit in a pan, or discard some of the juices from the resting period. I should really know this by now, I've made quite a few runny pies. Time to try tapioca as a thickener, too.
– Lattice top needs work – but that's also related to the too-crumbly crust!
– Topped with turbinado sugar, which looks pretty awesome.