Continuing the parade of FO's, the Must Have cardigan is FINALLY DONE!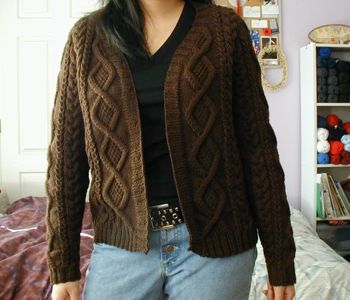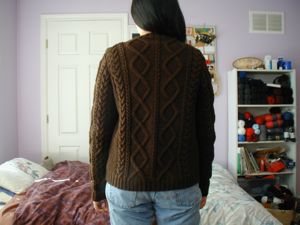 Unfortunately, the buttons I bought for it don't really work. I'll have to look for some more.
Yay!
Specs:
Pattern: Must Have Cardigan, from Patons "Street Smart" booklet
Yarn: Patons Classic Merino, Chestnut Brown, 7 skeins
Needles: US 6 & 7 Denise needles
Started: October 30, 2004
FInished: January 22, 2005
Verdict: Took awhile (not to knit, but to actually put together and finish) but the knitting was easy and fun!! I cabled without a needle, which made things a lot easier. The armholes are a little tight, but I think that's mostly due to my too-tight crocheting. They'll be okay, though. Nice and warm, and not itchy!