Okay.
I really, really, REALLY want to make this sweater: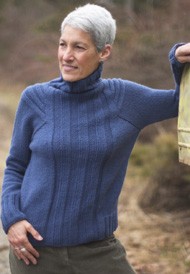 It's "Syncopated Ribs" by Norah Gaughan, from the fall issue of Interweave Knits. side note: I just seem to love these pieces that are done in one honkin' big piece, thereby making it very difficult to just take to knit in the subway. I think I ought to start making socks or hats or mittens or something (although according to my sources, "mittens are sooo last night"!).
Anyway. I want to make it in this:


Lion Brand Cotton-Ease in Blueberry. Now for the problem. The 42″ size calls for 1300 yds of the yarn (Berroco Pleasure, 130 yd/50g), which is 6.2 skeins of Cotton-Ease (207 yd/100g). The 38″ size calls for 5.6 skeins of Cotton-Ease.
Problem: I only have 5 skeins.
Possible solutions: a) Make the 38″ size (my bust about 37″, by the way). Omit the turtleneck (which I'd probably do anyway), and shorten the sleeves to 3/4 length (the sleeves are written quite long, 22″).
b) Somehow incorporate a different colour – I also have two skeins of "candy blue".
c) Make it white (but I really want to use the white for a cardi).
d) Don't make it at all (at least for a few months), because I've got a whole bunch of other projects waiting patiently for my time.
What makes this pattern so cool (quoted from Interweave): "Garment is worked in one piece beginning at the lower front edge, up and over the shoulders (casting on stitches for the sleeves), then down to the lower back edge".
I also really want to make the "Monk's Travel Satchel" from Folk Bags, which is free from the Interweave site – and yes I know Joyce, the endless seed stitch rectangle. I don't mind that (at least it'd be a subway/lecture project!), but I can't afford to buy the yarn right now. So it's in the queue, but possibly for quite awhile. EDIT: actually, I should have enough Naturelle to do the bag with…and if I go down a couple needle sizes in an attempt to get gauge (not really all that important, I like a nice big bag) it'll be nice and sturdy. hm.
Sweaters (and bags) keep me up at night.