Surprise! To the people I don't see in real life, anyway. I made a sweater, because I am cold and need a nice wooly pulli. (Don't mind my pj pants – it's gross outside so I stayed home! Plus, the studying…)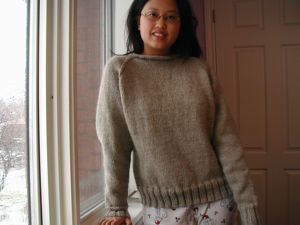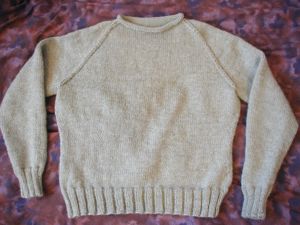 Man, it is friggin' HARD to take good pictures of yourself. Anyway!
Specs
Yarn: Elann Peruvian Wool bag sale, 17 (!) balls
Needles: Denise, US 8
Pattern: basic bottom-up seamless raglan, 3×2 ribbing at the bottom
Started: November 29, 2004
Finished: December 7, 2004
It would have been done earlier, but I kept having to rip and redo the neckline – I did a bit of short-row shaping for it, and I wanted a ribbed collar, but the first couple times the bindoff was too tight, and then it just looked weird. So, rollneck it is. It's thick and warm, and a wee bit itchy, but not intolerably so; a bath in Eucalan should take care of some of that. But since I want to wear this sweater tomorrow, I'm just going to steam block for now and wear a turtleneck underneath. It's also rather heavy, but doesn't feel that bad once it's on. Also, I spliced in the ends as I went, so I only had a few ends to weave in! Hurrah!
And it fits! That's what I was going for, baby. I hope to get quite a bit of wear out of this sweater.