I've had a million things to do (and still do…argh, school gets in the way of knitting) but I managed to finish the first pink sock!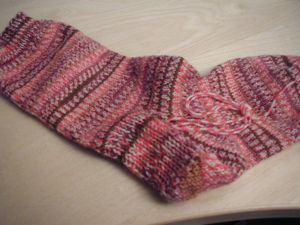 I've started the second one, too. Should be good to knit in lecture.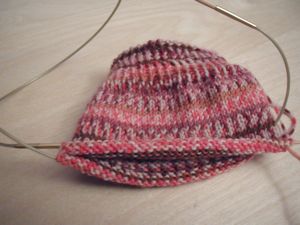 Oh, and I got this yarn from Elann today. Six balls of Esprit, for some very tall socks.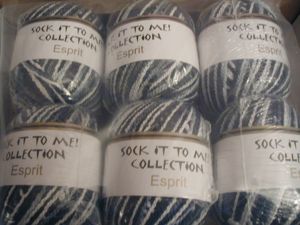 I managed to slice my finger while I was trying to open the package – d'oh! Soon as the pink socks are done I'll start these – I'm thinking toe up, and I'll just wing the leg increases. What else, what else…oh, remember the alpaca neckwarmer I made? Well, it's no more. In fact, it's been knit and frogged a number of times. The neckwarmer was too big, and I really need a hat. So I tried out this fabulous hat pattern, but a) I didn't have enough yarn and b) the stitch pattern was a pain in the ass. So I tried a simple stockinette hat – turned out too big despite swatching. So the yummy, yummy yarn is back in ball form again. I'll try a stockinette hat again and hope it works out.
I've been thinking about a vest, like this one, out of red and black Patons Classic that I've got sitting around. Big stripes of red and black. I'll get to that…sometime soon, hopefully. Oh, and I've been working on finishing up the Must Have – I did the buttonband and collar, and I just need to set in the sleeves and do up the sides.
I'm going to try and blast through that red and white scarf from a few entries ago, because it works up fast on US 10.5's and I need a new scarf! Brrr.