First up, mini-charlotte: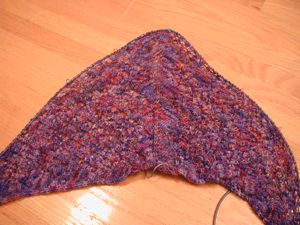 And currently in progress, my (cabled) ribbed cardie: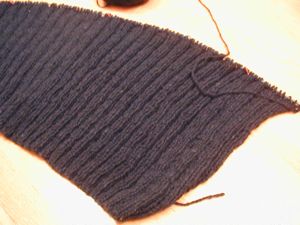 That's the body, which is one piece to the armholes. I'm aimin' to get that done tonight – I've got 4″ to go (total= 15 inches). It goes superfast, though – yay for 10.5 US needles!
One FO, the brown sideways scarf.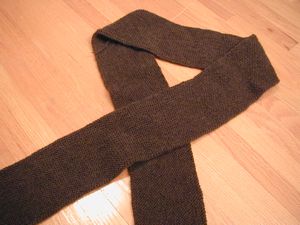 I think it turned out quite well, even though I could've managed another row or two before binding off. Really needs to be blocked.
Christmas gifts not yet done
– mini-charlotte for auntie
– capelet for mom
– scarf for dad
– armwarmers or something for sister #1
– socks for sister #2
– sideways sari silk scarf for cuz
– something for my grandmother
I think I'm on track!