Sigh. I'm tired.
Just a few thoughts on knit.1, and I'm feeling rather lazy with the pictures –
1) I like the cover sweater, except for the fact that it's drop-sleeve.
2) Rainbow tank by Teva Durham is awesome.
3) the ribbon crop-top (number 40) isn't bad either.
4) That hotpant overall is just WRONG.
5) Enough with the crocheted bikinis!
6) How can such a small magazine cost so much…next time I'll think harder before buying.
Ahhhh. Nice yarn.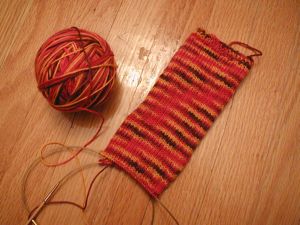 The darker bits are actually dark purple/brown, and the whole sock is quite a bit more pink than it appears here. This sock's taking forever though, mainly because I haven't had much time to knit. I knit all day at work*, then when I come home I need to study (which involves typing, and thus the use of one's hands). I was hoping to put up a picture of the manos cardi today, but..maybe tomorrow. When I can get someone to take a picture of me in it.
Rachel – I did get your Paypal, and it went out in the mail today (too busy friday to get it out). Shouldn't take too long to reach you!
*edit: when I say i knit all day at work, that is work knitting. i don't get to keep the pieces I knit while at work – they're for the shop. so what I really mean is, I don't get to knit much for ME. I'm selfish that way.