Yep, I'm suffering from a bad case of startitis.
The start of some koigu gloves, pour moi. Pattern from Ann Budd's Handy Book of Patterns, koigu KPPPM, US 2 Brittany dpns.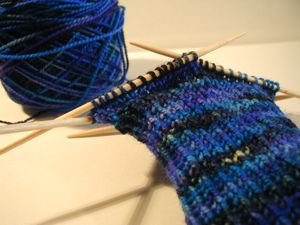 The start of a pair of legwarmers for me – one strand of Patons Classic (or P. Clizzy, as la brainy would say) and one of Kidsilk Haze. YUM.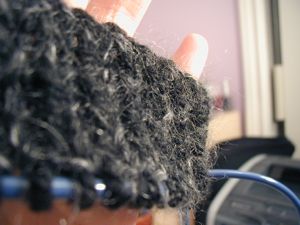 I'm magic-looping these legwarmers, and while it's faster than dpns, it could be faster. Anyone want to lend me a shorty Denise cord (the 9.5″; I bought my set before they started making them) or a 12″ circ, US 7??
Mini-charlotte is done except for the bindoff and blocking!
I'm exhausted. Two exams in the next two days.