Well, I don't much care either way.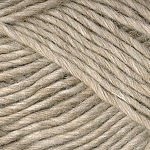 I can't decide what I want to do with it, though. It depends on the gauge I get. If I can get 18 st/4″ I'll have various pattern options, but I'm really leaning towards a basic bottom-up raglan like Rosedale United. Doesn't much matter what gauge, for that – I can wing it.
Things are progressing slowly on the cabled ribby and my grandfather's scarf. Oh, I didn't tell that story. I'm doing a scarf for my grandfather with the Peruvian Collection Highland Wool, in Coffee Bean Brown. It's knit sideways (ie. I cast on the length). The first time I did it, I cast on wayyyy too many stitches. Luckily, I realized this before I'd gotten very far, and actually calculated how many I needed (350) before casting on. I'm finished the first ball, which gave me a little over an inch towards the width of the scarf. I'm going to see how much I get out of two balls (I've got four), and if it seems a little narrow I'll add a stripe of something else – possibly this dark green Inca Alpaca (by Classic Elite) that I've got laying around.
I went to a friend's and taught her how to knit tonight! That was fun.
Off to study and worry.