The toe-up tall socks are done! Sorry about the picture (definitely not the greatest) but it's DAMN hard to get a picture of one's legs.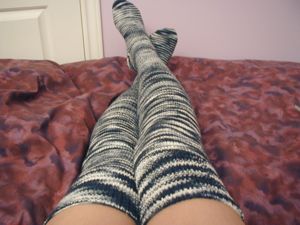 Some slight problems – they're a little too big at the top. I shouldn't have increased as much. One sock is slightly looser at the top than the other (stupid gauge problems). And, they are definitely not going to stay up on their own. So I'm going to run them through the wash, hoping they'll shrink up a tiny bit, and get started on Betty.
Oh, the top-down cardi is almost done too –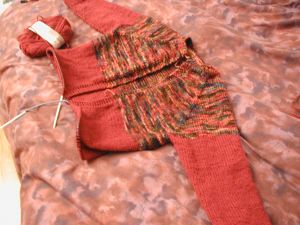 Just a few more rows on the body and some ribbing and I'll be done (except for blocking and that pesky stuff). I don't want the body to be too long because the look is "cute, cropped cardigan".
One more thing, I returned a ball of Kidsilk Haze and picked these up at SnB tonight.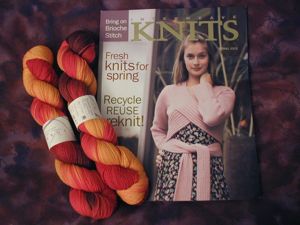 The new issue of Interweave, and two skeins of Lorna's Laces Shephard Sock in "Flames". It feel so, so nice. Unfortunately it's on the skinnier side of sock weight, and I don't have size 0 needles. I'm impatient, so I'll probably go back to the store tomorrow to wind up one of the skeins and start a sock on 1s anyway. If the fabric sucks, then I'll get some 0s. I wish those Garnstudio bamboo circs came in 2.0 mm…
* Cheetos are one of my junk food weaknesses. I don't love chips when I need something salty and crunchy – Cheetos all the way! They're especially good for late-nigth study sessions…like tonight.