I'm tired, stressed and cranky. And I have another large test on Wednesday – this one I haven't studied for (it's a format that isn't as memorization-y as the test I had today, but still). Joy.
Even my sock has been fighting. I tried a short-row heels, because the tall socks fit so well in the foot (an aside – I either need to rip back and redo with less increases – gahhh – or put some effort into finishing betty, otherwise these will never be worn outside the bedroom) and the short-row heel is easy and fast. Alas, it looked like crapola. So I ripped it and did a normal heel flap gusset thing.
One side looks okay…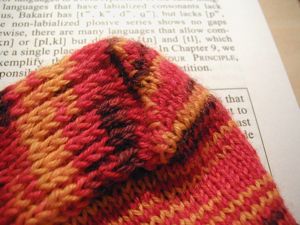 The other side…not so much (i don't know how clear this is going to come out in the photo).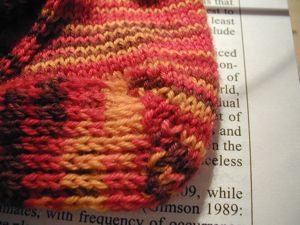 Oh well. I'm not going to rip again. I also f-ed up in the heel in a few other places, but I those aren't really visible. Overall, the sock is real purdy, and it fits nice and snugly.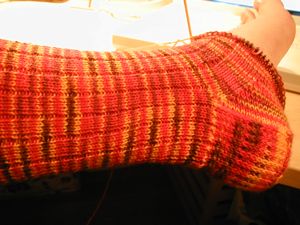 I'm quite happy with how the ribbing looks. Unfortunately, now it feels like I'm spinning my wheels – I'm knitting, but the foot isn't getting longer. I'm still aiming to finish this sock tonight though. Then I have to make another one…hopefully the second sock will be faster (a girl can dream). I also really want some more Lorna's, in Watercolors, but I really need to restrain myself.
Plus I just bought a shitload of yarn from elann.
Well, at least I know that we'll be getting more Lorna's later on (been ordered, but it takes so long to come) so maybe I can get some later on this spring. By the way, does anyone know of cotton sock yarns that are this pretty? Regia cotton is 45% cotton, I think, and comes in some cool colours, but it also has wool in it. Summer sock yarn suggestions?
p.s. check this out. Who sold him his first yarn, baby? RIGHT HERE.