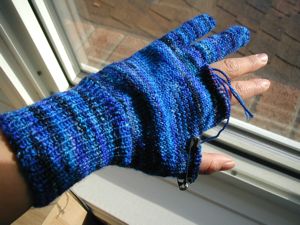 Gahhhhh. First off, gloves are AWESOME. As are 2.75 mm dpns. What is NOT AWESOME is realizing more than halfway through the glove that said gloves are too big for one's tiny hands. When I used Koigu to make fingerless mittens before, I used 3mm needles and the 7 sts/in numbers. They fit perfectly (48 sts). This time I'm using 2.75 mm and the 8 sts/in numbers (56 sts).
Alas, I just measured the gauge on both, and they're both 8 sts/in (even though current glove's stitches look smaller). So. The question is, should I use the 7 sts/in numbers (48 sts), or the 8 sts/in numbers for a smaller size (child's 6-8, 52 sts). Someone, give me some advice!
I'll be over in the corner with my linguistics notes, trying to read them while frogging this beautiful glove.