First off, the book launch party for Amy Singer's new book knitwit was AWESOME. The weather was great, there were tons of people there, and free food! You can't go wrong ;) Lots of A-listers, including (no links because I'm very tired, maybe I'll add them tomorrow) Stephannie, Jenna, Indigirl Amy, and Veronik Avery, to name a few. And I won a door prize!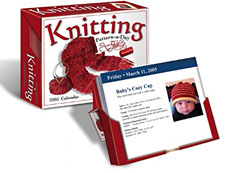 Very cool.
I've started my Tartan Jacket!
The stitch and even the intarsia is SO addictive. I've done quite a bit more since this pic. Unfortunately, being the rebellious knitter I am, I didn't swatch and am therefore having gauge issues. I'm using the suggested needle size, 9 mm (US13). Width-wise I'm ok, perhaps a quarter inch off the final measurements of the back piece. But as for row gauge…it's supposed to be 20 rows to 4″. And since I'm nearing 40 rows, I should have nearly 8″. What have I got? Wait for it…
5 inches. Yep. Since the width is working and I wouldn't want the fabric any looser (plus I realllllly don't want to frog what I have), I'm going to add another horizontal stripe section between what is given and the 13″ to the armholes the piece needs to be. I'll add it to the front pieces as well, but maybe not on the sleeves. We'll see when I get there.
I need a fall-weight poncho! Something to cuddle myself up in! It was so nice and cool tonight, although I would've been happier with a heavier sweater or a warm body…
movie lolita samplesmovies blowjob longmovies bbw maturetemplate script moviemovie star titsvidcaps movietits moviesmovies nikki blonde xxxmovie city oklahoma theaterspigtail galleries movie