First though, pictures of the finished manos cardi! (Pattern will be forthcoming.)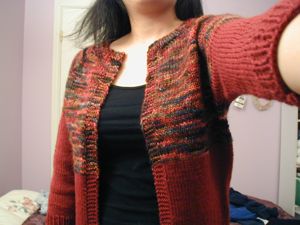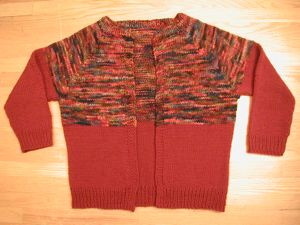 It's soo much drapier after being Eucalan-d and blocked out – I added some length to the sleeves by blocking. I don't know if I'll put a clasp on – maybe just one button or something.
The urban aran, however, has bit the dust.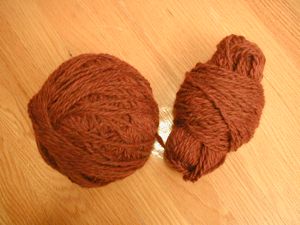 I realized that although I thought I was making a 40″ finished size, it was actually the 44″ size. A wee too big. The large ball on the left was the sleeve – I spliced in the ends as I went, so that's a good 2.5 balls wrapped up in one. Times like this I wish I had a winder… now what to do with the yarn? Ribs are really nice in this yarn, as are cables, and I'd still like to do a cardigan-jacket thing.
Perhaps an asymmetrical opening…I'm also going to swatch with two strands and see what kind of fabric I get – seems easier to find patterns at bulky gauge rather than chunky, although I'll probably still end up designing this myself.