Mmmm. Nice warm socks.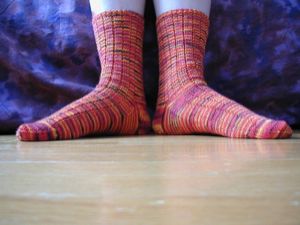 Lorna's Laces socks
Yarn: about 1.25 skeins of Lorna's Laces Shepherd Sock, Flames colourway
Needles: Garnstudio bamboo circular, 2.5 mm
Pattern: basic sock pattern, with ribbing, on 68 stitches
Started: February 9, 2005
Finished: February 28, 2005
It took wayyy less than two skeins to make this pair of socks – I ran out on the first skein after the heel flap of the second sock! And they're super soft and nice-feeling. There shall definitely be more Lorna's Laces in my future (but not now – trying not to spend money).
Exception to the not spending money – I *finally* got a haircut, at Purple Hearts on Queen. It's pretty snazzy, and was less than the hair guy I've been going to. I look weird in this picture (get the girl some lipstick) but oh well.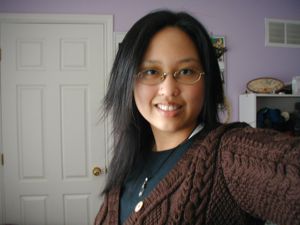 And there's the Must Have in action!