Sort of. I met with a friend tonight to study syntax, and we actually did study for a good three hours or so. I'm not as completely screwed as I was 24 hours ago, hooray! Unfortunately, I didn't have a great day otherwise – I messed up my bio lab somehow and will probably get a very low mark on it. Good thing it's only worth 1%. My midterm tomorrow is from 7-9, after which I'll be going to SnB…so maybe someone ought to make good on that idea about wine ;)
I've had the "new post" window over for a couple minutes, but I wanted to wait until I could truely say…Syncopated Ribs is done, ends and all. I just dumped her in the wash, so FO pictures once the laundry gets done. I probably have enough yarn left over that I could've done full-length sleeves (the cuff ends a couple of inches above the wrist, currently) but it would've been close. I think I like the sleeve length now, though.
I also finished one of my Manos legwarmers today and started the second one. Mmm mm manos! I lurve the colours. Pictures of those soon too, I just don't really have time to take them off the camera, resize, upload, etc.
I do have some pictures, though: the lotech sweat…
The back. It's nothing exciting, but it's done. And here's a shot of where I am on a front.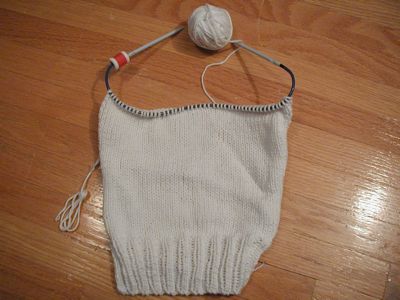 It'll take awhile to finish this one, because it's my take-to-school project (although not right now, right now the Manos legwarmers are getting the take-along love). I do have a plan of attack, though: after this front, both sleeves and then the other front, and then the pockets. I'm not going to do a hood – I'll be doing a collar instead.
Must study…or something…and sleep. It's been a loooong day.
P.S. You guys have probably already seen this, but Elann says new stock on the Jo Sharp Silkroad Tweed in two weeks. You know, I think I'm done buying yarn for awhile, the binge may have been hormone-induced…I'm not really feeling the stash-enhancing pull anymore, I don't think.