Monthly Archives: December 2014
I didn't make a lot of handmade gifts this year (other than a LOT of caramels, cookies, truffles, and peppermint patties) but I did decide rather late in the game to stitch up these pieces for my sisters!
Mochi the Maltese from andiwabisabi on Etsy. I used blue Aida for this one because most of it is white! This one was really quick and simple. I cut some backing fabric and put it all in a round hoop – they didn't have any small wooden hoops at Michael's when I was buying supplies, so now I need a new one!
I'm pretty darn proud of this next one – it was rather a lot of stitching to start only a week before Christmas! The pattern is Bento Box Sushi by Tiny Modernist, a local stitcher. I saw her wares at the Creativ festival and was immediately smitten! I used evenweave for this piece, also from Michael's – I would've used linen but I didn't have time to go to the proper sewing shop.
I finished it Tuesday night before I was leaving for my parents' house on Wednesday, so it was a little bit down to the wire! The piece didn't fit into any of the frames I had bought, so I just mounted it onto a small piece of foamcore. I used straight pins around the edge, double-sided tape to hold down the edges of the fabric at the back, and some washi tape over the back edges as well. For a bit of a border, I pinned some black ribbon all the way around and added a hanging loop straight through the piece. Of course, I neglected to take a photo of the back as we were trying to get out the door!
Now I want sushi.
P.S. If you didn't get one for the holidays, Gleener is still offering a promo code for blog readers! Get 10% off with code LAURACHAU10 at the checkout until January 2, 2015. Gotta keep those knits looking good!
Squeezing in one last pattern for this year – presenting Faux-chet Cowls! They might look like double crochet, but they are knit!
Six patterns in one, like my Cross Stitch Cowls! Two lengths (single and double loop), three gauges (fingering, worsted, chunky). The cowls begin with a provisional cast on, are knit flat, and then joined with a three needle bind off. The faux-crochet stitch, adapted from Lynne Barr's Reversible Knitting, is totally addictive! I include lots of photos to help you through this interesting stitch. Once you've got a few repeats down, it's very easy to memorize.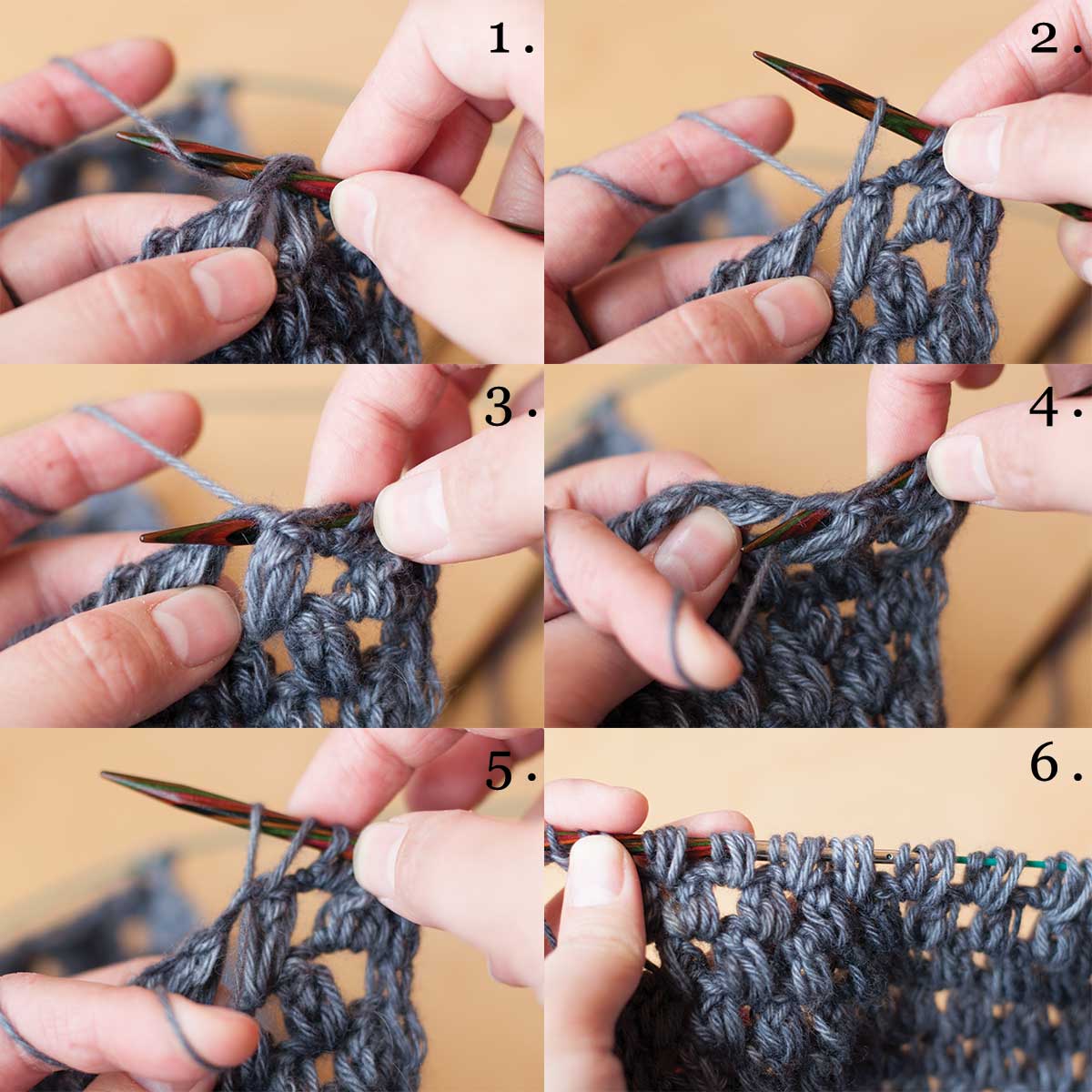 Attached I-cord along the edges provides a nice tidy finish. The light colour one is the single loop, worked in Tosh Chunky in Modern Fair Isle. It's quite a dense yarn, but it's also nicely squishy and definitely warm! Two skeins is enough for the single loop, but if you have a little more or less yardage you can easily change the length.
The double loop version is worked in two of my favourite colours, mustard and grey! I used one of my all-time favourite yarns for this one, Handmaiden Cashmere 4-ply – two skeins of grey and one of the mustard. It's oh-so-soft, a dream to work with.
This cowl is a great way to use up different colours, with striping or colourblocking. The chunky weight is especially quick, perfect for those pesky last-minute gifts!
All this for just $5 Canadian. What will you make your Faux-chet cowls with?