I'm back from the Rosehaven Yarn retreat and I had such an excellent time! Lesley was an amazing host, and everyone was so nice.
I took the train out to Belleville where Lesley's husband picked me up, and we made a quick stop at Rosehaven before heading over to the venue, Jackson's Falls Inn.
There were a few too many of us for the inn to accommodate, so I was actually staying down the road a bit at Black River B&B – the room was so luxurious, and I even had a deck looking over the Black River. This city girl even got to see a few stars at night. Big thanks to Meredith for letting me hitch a ride back and forth!
The schoolhouse at Jackson's Falls where meals were (as well as classes) was so cozy! Paul and Lee provided so much good food and were great at handling different food requirements for such a big group.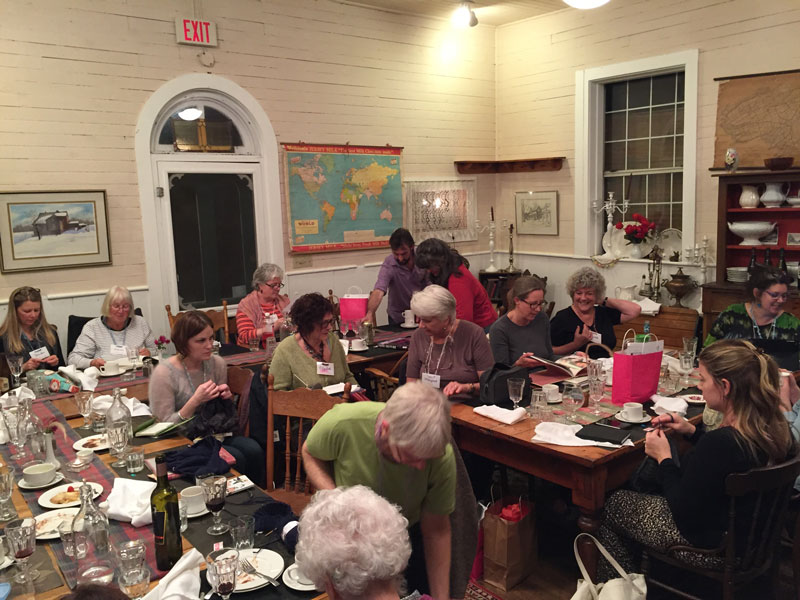 On Saturday afternoon Purlin' J's Roving Yarn Co dropped by – it's a converted fire truck that's now a yarn truck!
The knitters ranged from a lady who has only been knitting for 10 months to an amazing 90-years-young woman who just picked up spinning, got a wheel for Christmas and knit up a handspun shawl! So inspiring. My classes went well I think! I taught Continental & Combined knitting, Entrelac, and two-handed colourwork. The other teacher, Cheryl, taught Brioche, Mosaic and Toe up two socks at once!
Something kinda freaky – Cheryl has a sister named Laura…and I have a sister named Cheryl! How weird is that?!
Nancy sees me taking a photo…
I picked up a wee bit of yarn (Quince&Co Tern) and a patch and t-shirt from Purlin' J, as well as some gorgeous clothes from Cut Loose which Lesley carries in her shop.
Thanks to Lesley for inviting me to teach, and everyone for being so awesome! I had a fantastic time.
P.S. This is unrelated, but while I'm thinking of it – my favourite de-pilling tool, Gleener, has given me a coupon code to share with you all! Use code LAURA10 to receive 10% off until December 25, 2015 – it makes a fantastic gift as well.