Yep, another case of the February blahs in March. I'm feeling rather uninspired by my knitting projects at the moment, and a large part of that is wanting it to be spring so I can knit (and then wear) spring things. Ah well, I suppose I should take this time to work on schoolwork and wait for the knitting muse to come on back with a vengance, mm?
I'm working on the not-cashmere pullover…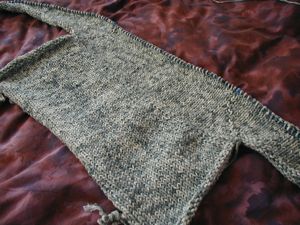 I'm going up the front yoke, then soon shall come the collar, back yoke/sleeves, and connecting the back side-to-side piece. And then picking up and knitting down from the center pieces for length, although I think I might make it shorter than the pattern calls for. Although the yarn is bulky, it still feels like I'm not moving much because the rows are so long.
I do have one spring/summer project firmly lodged in the queue – the Gibson Girl pullover from last summer's Interweave.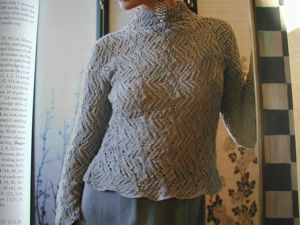 The blurriness wasn't just me; the picture's blurry in the magazine too. Anyway, I need to decide on a yarn – I think I will do a sport or DK-weight mercerized cotton, but what colour should I do? I don't want to do it too dark, but I want it in a colour that I'll actually wear…suggestions?