Today was very warm. A little too warm for my taste, actually. I want to be able to wear some type of non-tank top comfortably, and not be sticky and yucky. I can't wait for some cooler (but not cold cold) weather.
Anyway, last night I finished my third ball of yarn on the zigzag bag, but I was three rows short of the repeat. So, I just joined a new ball and finished off that repeat as well as cast off for the straps this morning. I worked on the strap between tutorial and class this evening as well as at SnB…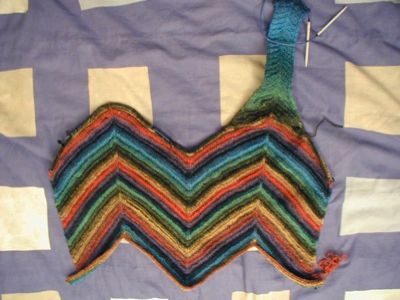 I fiddled with the colour saturation a bit on this pic because it was really washed out – the colours are fairly bright in real life, although the black stripes bring down the tone a little bit. This bag is such a nice quick knit – a welcome change from the neverending Bella! Which, I might mention, hasn't received any attention since I finished the seaming. Maybe this weekend.
ttfn!