First off, I'm running a birthday sale on Ravelry – 30% off all my self-published individual patterns (excludes third party publications and ebooks). Ends tonight, August 2, at midnight so hurry on over to my Ravelry page!
This summer has been flying by! We're staying in town this year instead of travelling, so it's been pretty quiet. Super glad we were able to get air conditioning installed before the weather really heated up since we're spending lots of time at home.
We went strawberry picking (along with everyone else) on Canada Day weekend. Super crowded but it wasn't too hot that day, and we came away with about 14 pounds of berries. I made 5 pints of freezer jam – I love the fresh taste since it's not cooked, but it does take up a lot of room in the bottom-drawer freezer. I also made a batch of cooked, canned jam, and some strawberry buttermilk ice cream from that batch.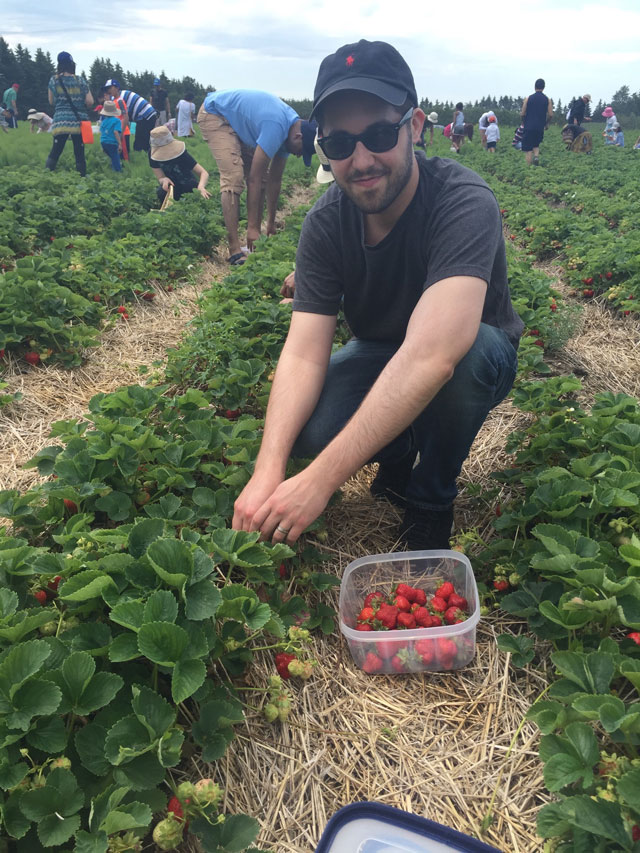 We've gone down to the beach a few times. The eastern end is off-leash, so there's always a lot of cute dogs to pet there (and it's less busy). The water levels are super high this year and sections are closed – it's crazy to see the water over walkways that are usually several feet above!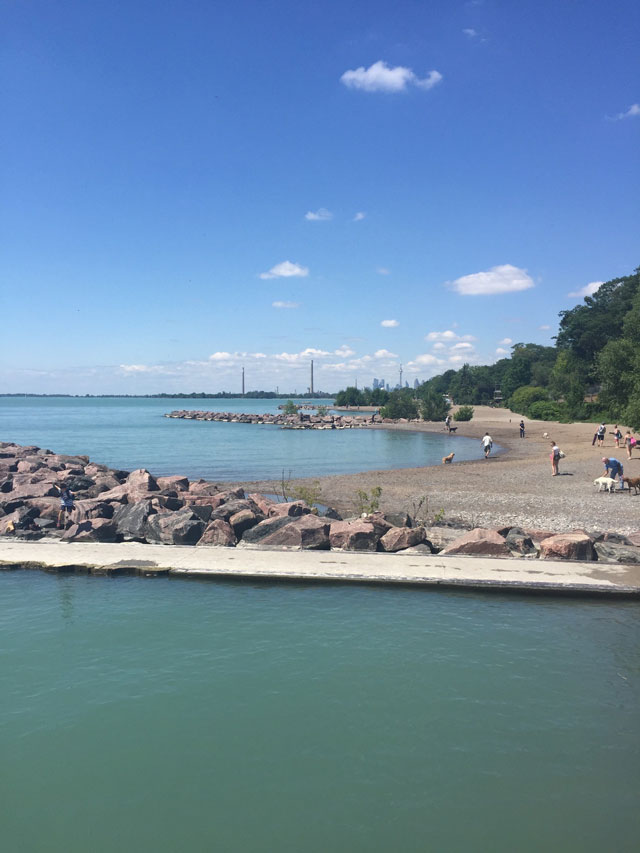 Can you see the CN Tower?
Cherries went on super sale in July ($1.67/lb!) so I bought three bags and made some cherries in syrup and a bit of cherry compote.
Dale's birthday was in July, and we decided to go out to the Aga Khan museum since we hadn't been yet. Unfortunately I should have made a reservation for the restaurant as it was full up when we got there. Oh well. It's a small museum but really interesting.
I made a cake to take up to the farm for his family party – it's funfetti (vanilla with sprinkles) with raspberry frosting. I, um, didn't measure or stencil so the 30 is a bit off centre, whoops!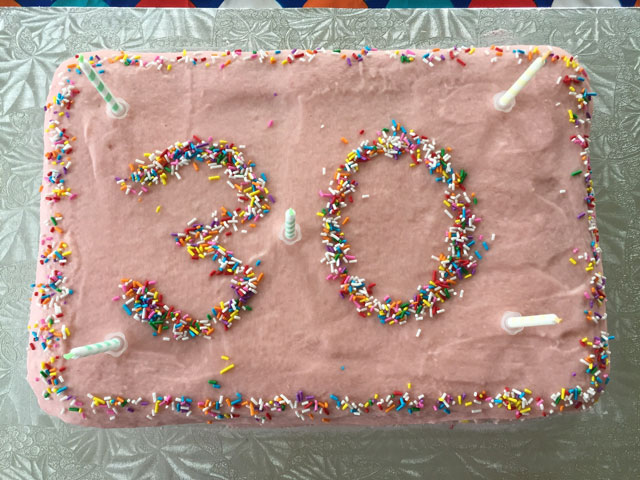 I've been sewing a little bit: I finished a Dress No. 1 from the awesome Sonya Philip in some cotton that I got at the Textile Museum sale a few years ago – the print matches well on one side but not the other! I added in-seam pockets as well. The fabric isn't great for this, it rides up a bit, but at least I know what to fix for next time.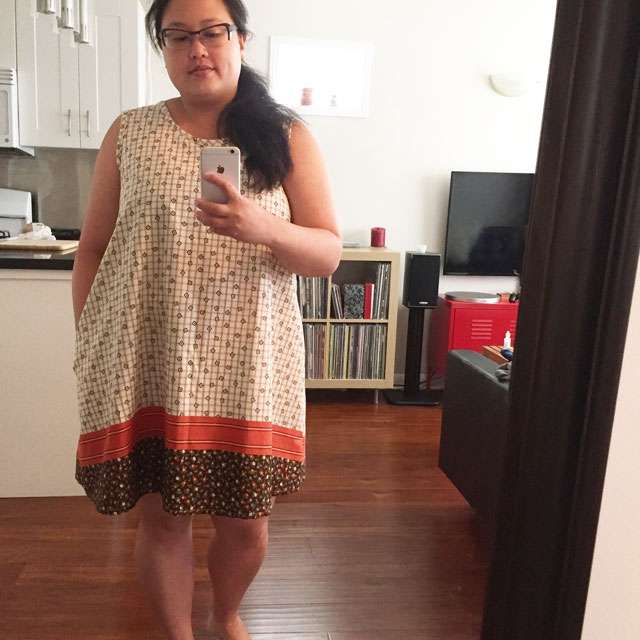 I also finally finished up a dress I started last summer, Alabama Chanin's corset dress. The front and back each have 3 pieces, and I added in-seam pockets here as well. The whole thing is hand-stitched, including felling all the seams. I'm really happy with this one! It's in a very light t-shirt jersey that feels like cotton to me (it was unlabeled).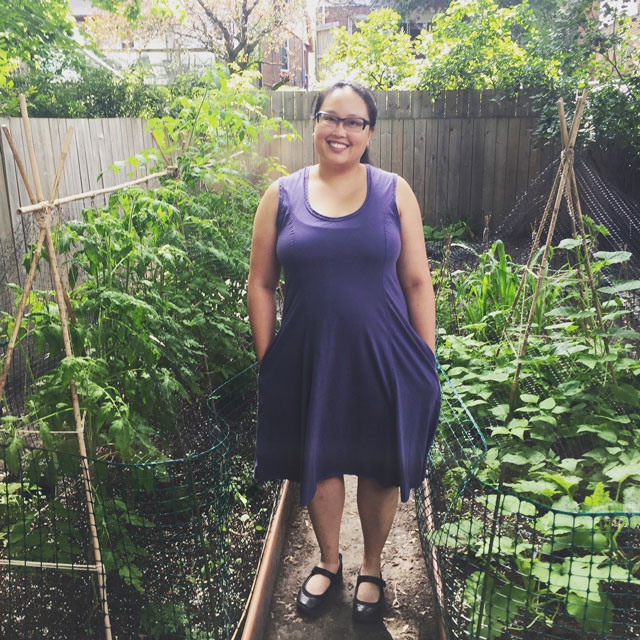 Knitting-wise I've mostly been working on secret stuff, but I found some time to play around with a new idea. Yarn is Lichen and Lace worsted.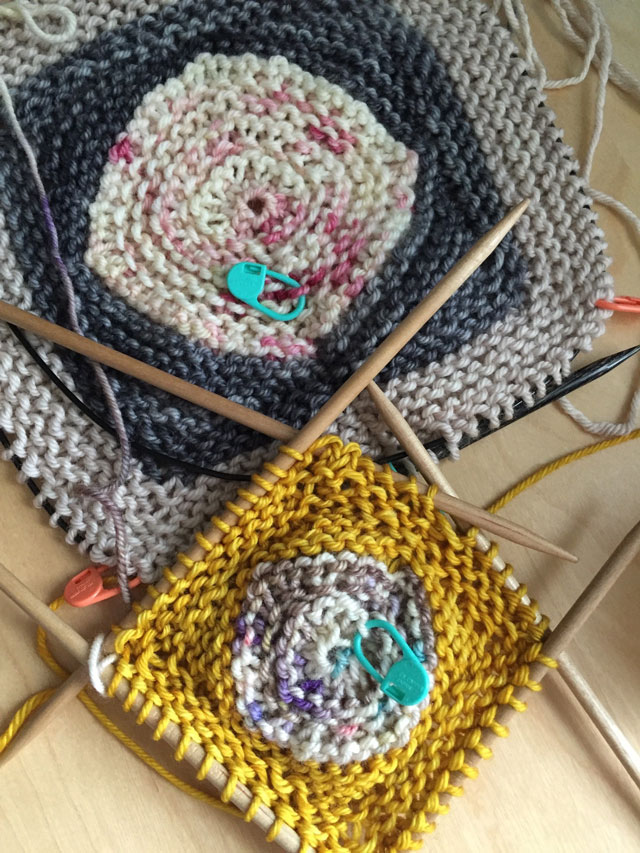 I also just finished up a nice light pullover out of Quince & Co's fingering weight linen, just needs the ends woven in and a good blocking.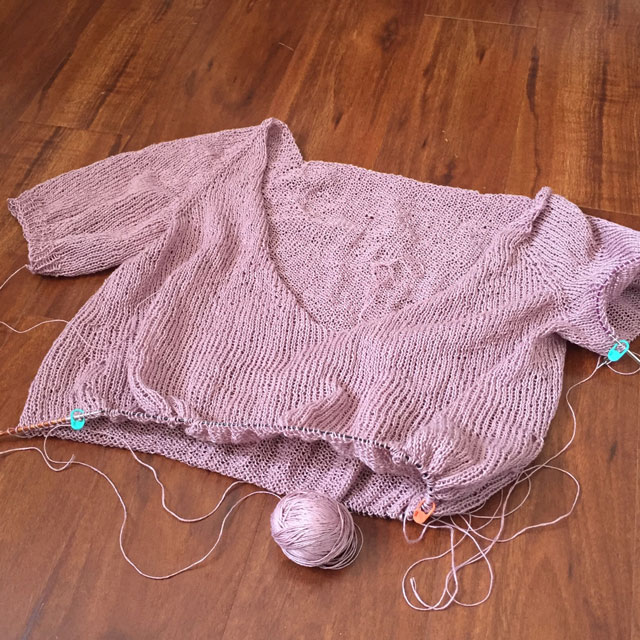 The garden is going bonkers – it's the first year we're not gardening on a balcony and it's great! The raised beds are from (several) kits that just slide together, and we made sure to put up a lot of protection from critters. We were pretty late getting everything in the ground but things have really come along nicely. There's some tiny little beans, peas, zucchini, cucumber, and tomatoes!
June 20:
August 2: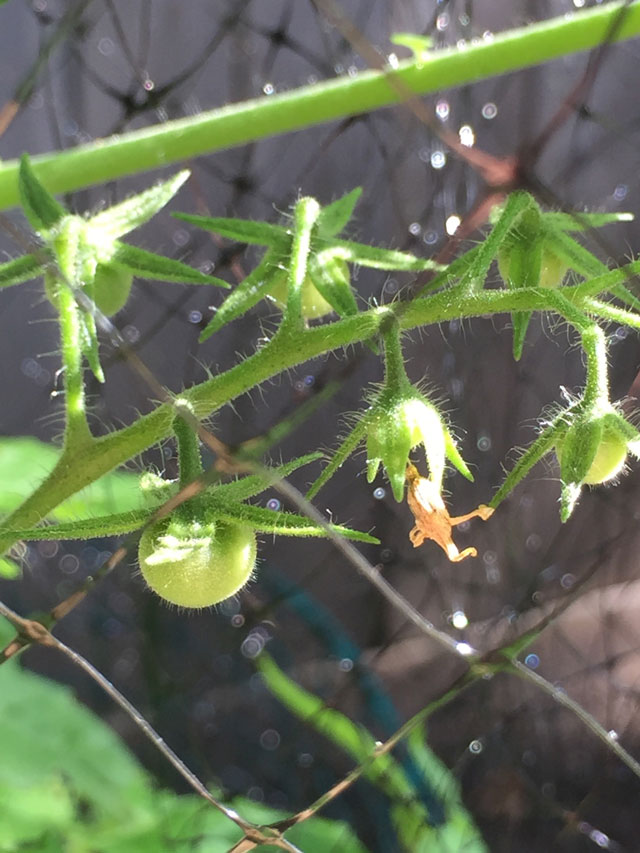 We had to add extra stakes to the tomatoes – they're 8 feet tall! At this rate we're going to need stepladders to harvest.
For my birthday we went out to the Ontario Science Centre and saw an Imax movie, then went out to sushi. We usually go to a lot of museums on vacation, so going to 2 museums in a week definitely had that vacation feel!
My cake was a hilarious half-cake made by cutting one layer in half and stacking. Black Forest, yum.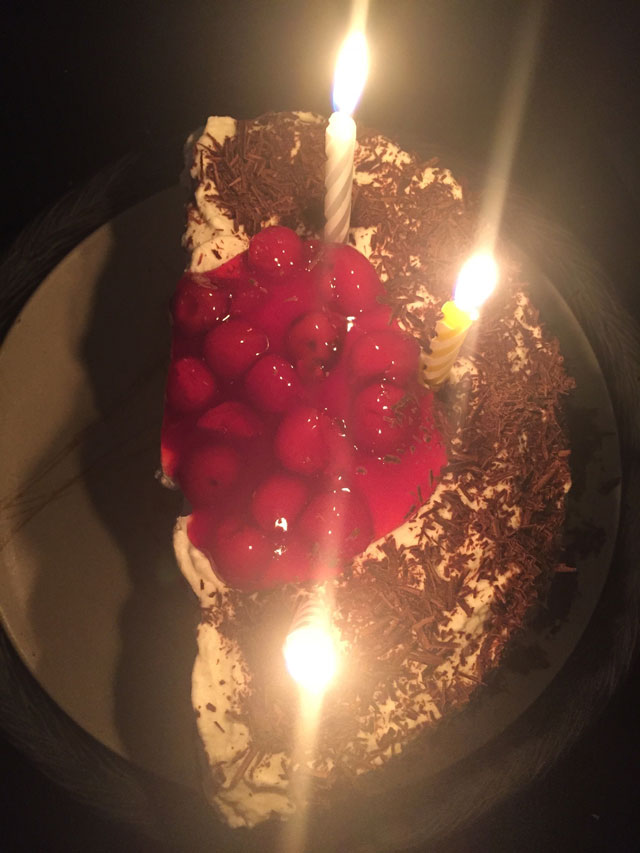 How's your summer going?