Geez, I knew it had been awhile since I'd blogged, but I didn't realize just how long it had been! In September I was consumed with very tight deadline projects, but I got 5 projects out the door (2 knit by sample knitters, thank you so much ladies) and now I hardly know what to do with myself! I also missed submitting to some design calls while I was busy, so I don't have anything currently lined up. I'm sure that'll change though.
I do have some new patterns out though! Sometimes it's difficult for me to tell if I'm actually accomplishing anything, but when designs are released I feel a little better about the amount of work I've done this year.

Photo by Feel Good Yarn Company
Another sweater pattern with Feel Good Yarn Company, called Claremont! Big thanks to Denny for knitting up this sample. This sweet, shapely V-neck cardigan is worked seamlessly from the bottom up, with integrated bands and seed stitch details. The SilverSpun Sock is a super stretchy, extremely comfortable cotton blend with silver, and Feel Good even has a kit available for 15% off the yarn price.
Fave and queue Claremont on Ravelry.
Purchase Claremont pattern or kit.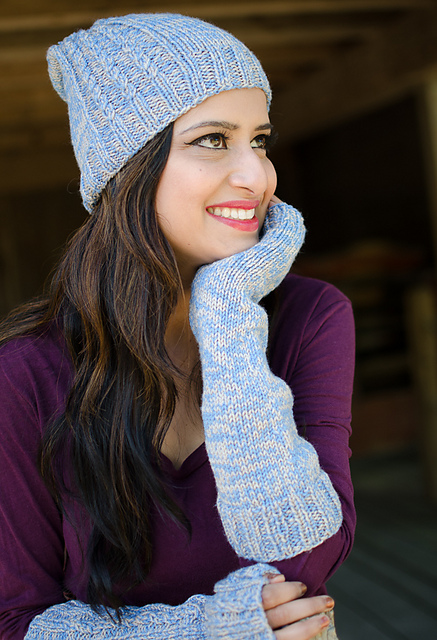 Photo by Louet North America
Motley Mitts and Hat are worked in Louet Gems fingering weight, which is a great workhorse superwash merino with a nice twist and crisp hand. I held two strands of fingering weight together to get the marled effect, and a simple twisted rib panel on the hat and armwarmers are framed with ribbing and stockinette. Plus a nice big pompom! The pattern includes instructions for the armwarmers and hat together, in adult sizes S, M, L.
Queue, fave and purchase Motley on Ravelry.
At home, I've been working through some new sweater patterns that I've had on hold for awhile. I feel like I've been working on these sweaters forever – they were mostly done last winter and spring, and I decided to wait to release the patterns until it was a more sweatery season!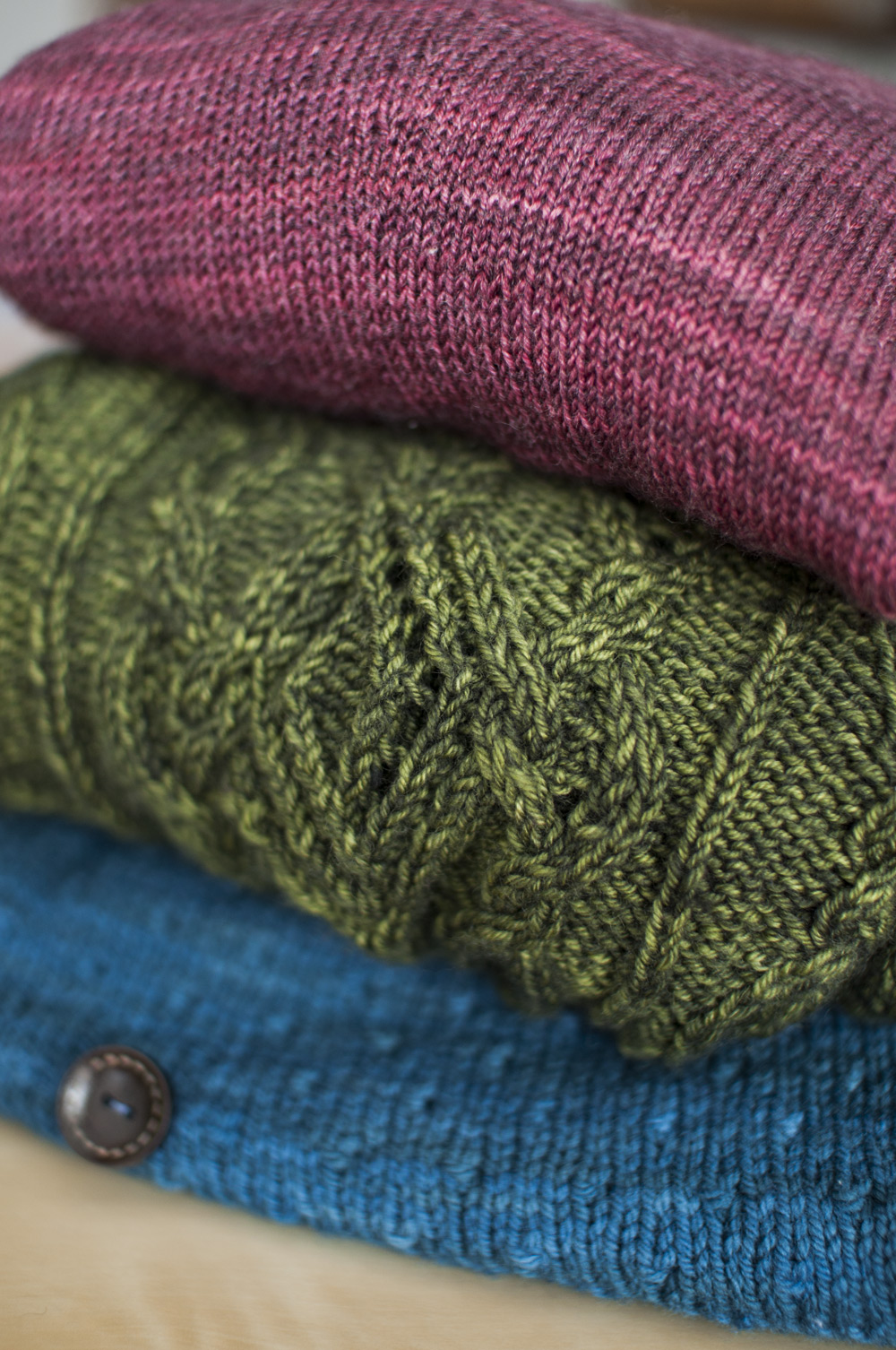 Top to bottom, the yarns are: Anzula Haiku, Zen Yarn Garden Worsted, Dirty Water Dyeworks Johanna
I've also been swatching for some brand new projects, because I really do need something new to take to Rhinebeck!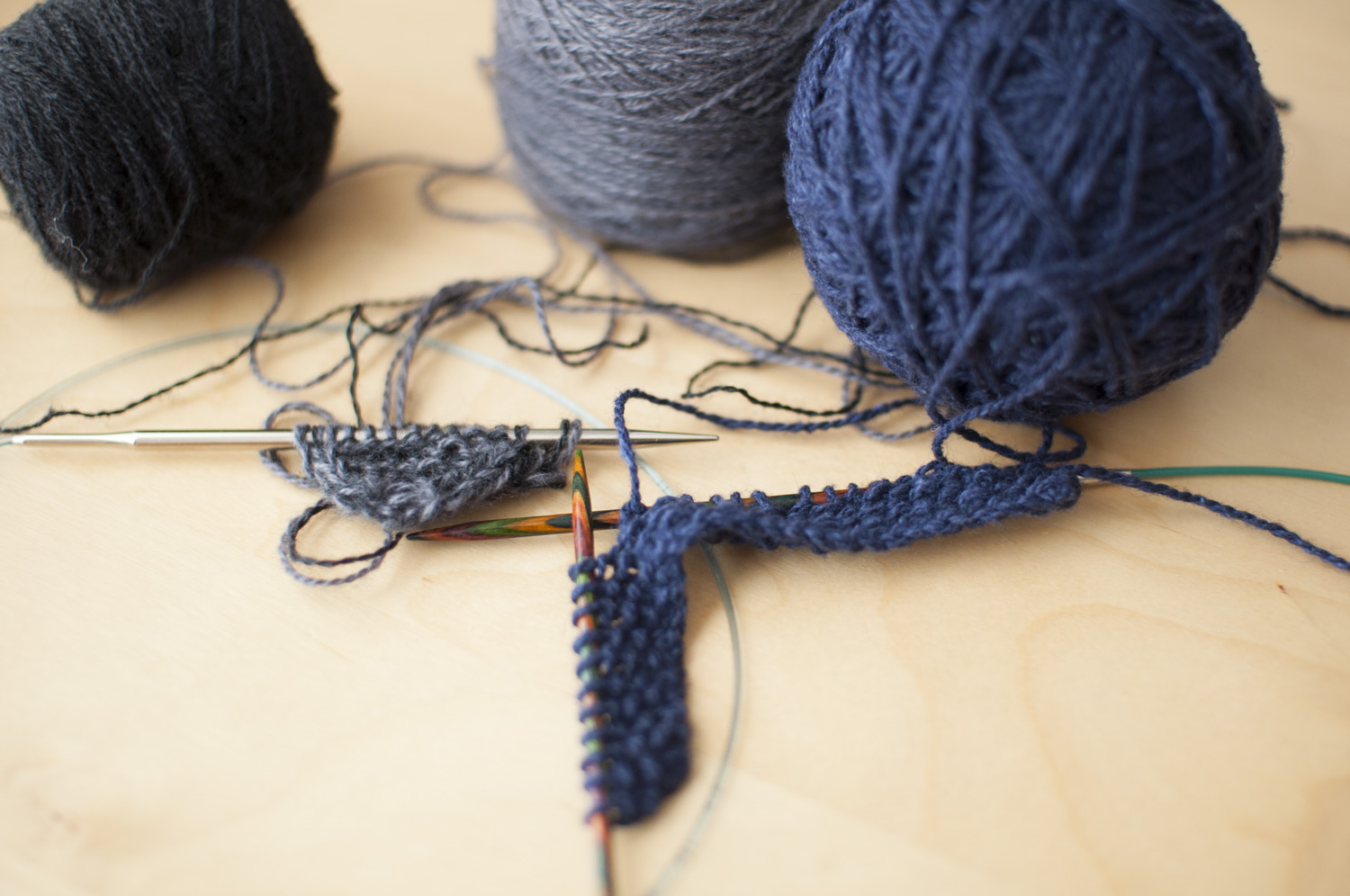 I didn't go to Rhinebeck last year so I'm SUPER EXTRA EXCITED for this year! Please do say hi if you see me!