Well, there's not all that much up in here to report. Still haven't worked on the Lotech. But there's been some progress on the not-cashmere pullover…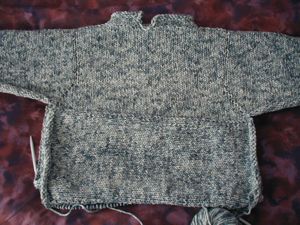 I'm working down from the sideways sections for more length. I don't think I'll make it quite as long as in the pattern, but it definitely needs a few inches. Check this out: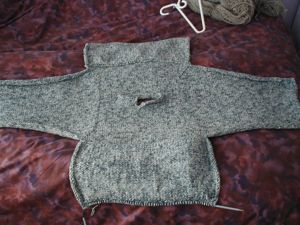 See how Loooooong the yoke/sleeve section rows are! I was really, really relieved when I started casting off stitches for the back sleeves. Sheesh.
Let's see, what else…oh, I started the Monk's satchel. I'm done the front piece and am working on the back/flap. I'm adding about an inch to the main pieces and possibly a couple to the strap/gusset, because I'm going to machine wash and dry the pieces before I saw them up, so they're going to shrink a bit. I suppose I should do the contrast edging after I wash as well, because I'll likely be using TLC Cotton Plus, and I don't think that'll shrink.
Oh, and I've decided to do the Corset Pullover, currently free from the Interweave site, in Naturelle 8/8 as well. There's the shrinkage factor….I'll have to figure out what's going on with that so I can lengthen everything by 15% or so. It's the sleeve caps that I'm slightly worried about figuring out, but ah well.