I'm having a hard time getting into things today. Maybe it's because I only woke up 40 minutes ago (I went to bed around 4, 4:30) and I'm groggy. Maybe because I haven't eaten/had caffeine today (no caffeine after 7 for today, man). At any rate, I'm thinkin' about my knittin'.
I'm SO behind in my Christmas knitting. After this test I'll have to churn out a couple of scarves. List of scarves following my very cool, very plush-feeling scarf pattern which uses two strands of classic wool and 1×1 rib (i'll put up a picture sometime):
blue + black: cousin D
grey + cream: friend
possibly blue+green (involves buying a skein of blue…or I could mix with the highland wool! yeah, i'll do that): dad
cabled scarf: grandpa -> I'd better get on this. I might have to go buy two skeins of classic wool that are actually the same dyelot and restart (I've done basically nothing anyway)
Other presents:
I think I might cop out and give my cousin T some yarn. Maybe two skeins of the Inca Gold Alpaca (yummm)
Socks for sister – waiting for needles
Something for my other sister…still not sure! Armwarmers?
Grandma…maybe a hat, but I don't know what size her head is. maybe a scarf.
Mom: so apparently she wants a capelet (then I can give her the handwarmers for her birthday). Problem: I don't know what yarn to use. I don't think she can really wear wool (maybe a really soft blend or something), and she wants it to be somewhat dressy (to wear over a dress). Any suggestions for yarn?
For me (not going to happen for awhile):
jo sharp sweater
must have cardigan
lotech
..and I need to figure out what to make with all this highland wool. I think I want arans, or at least some kind of texture. And probably pullovers, in contrast to all my cardigans lately. I was thinking maybe the bed and breakfast pullover:
And I really like the Shimmer aran from a few years back..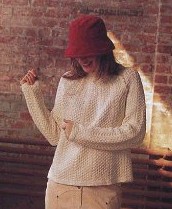 But I dunno. I also really like these sweaters Aven's made: Ridged Rib pullover and "honeycomb classic".
Back to studying.