To celebrate the completion of two projects, and reaching the halfway point of the LoTech (I've decided to continue on it even though I don't know why I chose the particular size that I did), what do I do? Why, cast on another project, of course!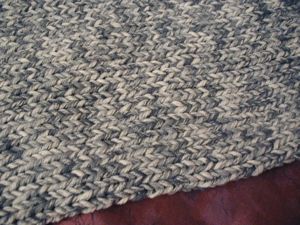 I've started the "Cashmere Pullover" from Weekend Knitting, designed by the lovely Teva Durham. Seeing as how I don't have the money for a cashmere sweater of this magnitude (or any magnitude, really) I'm using Berroco Pronto Print from Elann. It's going nice and quickly at 12 stitches per four inches, and it's got a wicked cool construction. Might be a little bit to take on the subway, though. Maybe I should cast on for another pair of socks…but I'm slightly sick of socks at the moment (just slightly) so I suppose the boring, boring sleeve of the LoTech will come with me tomorrow.
I've just got the fronts to do on this project I was designing, but now I'm not feeling the love…something about the Highland Chunky just isn't wanting to be the sweater I wanted. Also, I'm not all that crazy about the colour. So…I think that shall be frogged, and the yarn will just have to go back into the stash. Maybe just another random pullover or cardigan? I can't decide.