Argh! It's down to the crunch, in terms of school and all that. So very many things to do..
I received my package from Camilla Valley Farm – two cones of 8/8 cotton, 1 pound of 4/8 mercerized cotton.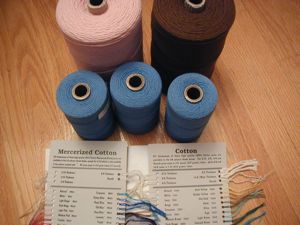 Unfortunately, the brown isn't what I was hoping for so I'm going to return it for another colour (and I got the shade cards, so now I can actually see the colours!).
But it's all about scale: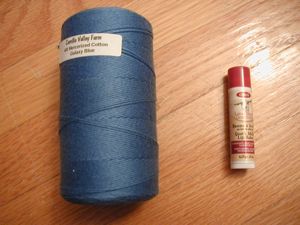 A 1/3 lb cone of mercerized cotton next to my standard-size organic goat's milk lip balm. Tiny, eh? I wasn't expecting that, but so long as the yardage is correct, it's a-ok!
Apparently Stephanie's delusion about the proportions of one's feet and where the heel and toe are in relation to each other is contagious, because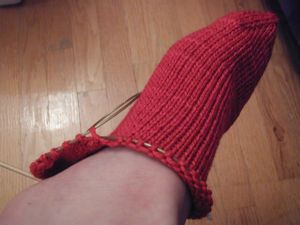 See the needle there? Yeah, I'd started making the heel. Hrmph. Anyway, I ripped it back, and did a heel based on the pattern "Priscilla's Dream Socks" but it kind of looked like crap.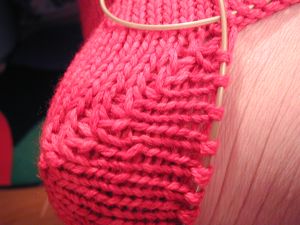 Although I'm surprised that my camera even managed to capture such a close view, it doesn't really show how the heel looked – the yos created really loose stitches. So I ripped again, and did a short-row heel with wraps – it looks much better. So now I can finally get moving on the rest of the sock.