Kind of looks like a rugby sweater, hm? Except it doesn't have a foldover collar.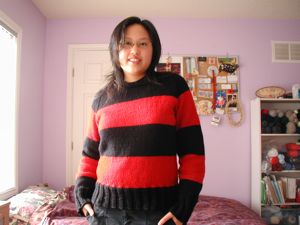 I'll keep this short because I want to go watch CSI (Miami) – worked a wee little bit on Cozy tonight, and I'm almost done one piece of the Monk's Satchel. Doesn't get me all that much closer to being done, but it's something. I think I'll take that tomorrow to school to work on – I've got a lot of free time on campus tomorrow. It's kind of boring for the actual non-class time, though. Maybe I could bring Cozy, but…that's a 1-lb project. Do I really want to carry that around?
Anyway, enough rambling. Off to work on the not-cashmere pullover – I'm going to concentrate on getting that and the Lotech done soon.