…cuz I felt like bloggin'!
I'm done one sleeve of the 2x2x3x1 Ribby – I lengthened it a touch because I'm paranoid about too-short sleeves and I happen to like longish ones. I used nearly one skein for the sleeve – I've really got to watch the amount of yarn, because I won't be able to get more! I do think I'll be ok with the six skeins that I have, though. I'm also done about five inches of the body, which is easy to work on because there is no shaping, no counting rows, no nothing for fourteen inches (once past the first twelve rows). I should be able to get another 2 or 3 cm (an inch or so) out of the first skein for the body.
Work was good today, there were quite a few people, including some American tourists. We also received some more recycled silk, from a different source (in addition to the Mango Moon). I think I'm going to work up a little purse pattern that will show off the silk's brilliant colours. Also, Megan's going to be ordering some more Lamb's Pride, so I asked her to order some Bulky for me to make…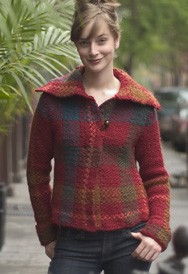 the Tartan Jacket from the fall Interweave! It's so freaking gorgeous. I can't wait to make it.
Nighty night!
P.S. Stitch 'n Bitch Wednesday night at lettuce knit, 7ish to 9ish! I'll be there – will you?