Coming home on the subway yesterday, I felt the urge to bead. I used to make tons of seed bead jewelry, but I haven't done it in at least a couple of years, now. So today I pulled out my old beading stuff.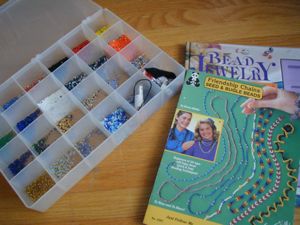 And then, since I don't have any classes today, I went over to Sheppard Centre, to Lewiscraft. I picked up a couple more balls of Classic Wool on sale (more on that in a sec) and new beading stuff:
Seed beads, beading needles, and findings. I'm gonna make a necklace – stay tuned for that!
As for knitting content – I've decided on a hemmed bottom edge for the cabled top-down. I've done the turning row and just need to do a few more rounds before binding off. Now I just have to hope that I have enough yarn for the sleeves – I have 5 balls left. The Lotech has sat around for a few days, but it is my take-along project – I'll work on it in classes this week.
New Classic Wool: three balls of black, 2 of a nice burgandy. I think I've finally decided that I am going to do Christmas knitting. I was not going to do it, but I think it could be fun…maybe. At any rate, it'll be nice to give knitted gifts. So here's my list as of now:
Mom: mittens (gotta figure this out, I don't think she's very wool tolerant)
Dad: wool scarf
Sister #1: I have no idea. She's 18. Any ideas?
Sister #2: socks (she asked for them)
Grandma: a tam
Grandpa: scarf
Aunt E: a tam, or maybe a scarf
Cousin L: the opera scarf, in black classic wool
Cousin D: uh…probably a wool scarf
Aunt J: something lacey
Cousin T: maybe a hat?
Cousin M: wristwamers. or something to do with guitars.
I think it's doable. As for my personal knitting, I won't start anything new until I make some more headway with my projects. Then it'll probably be koigu gloves, the must have cardigan, and clapotis.
Whew!