Instead I'm taking photos! Whee!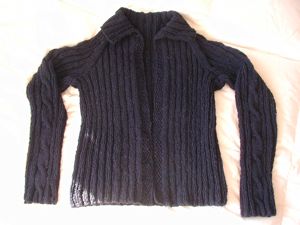 More detail shots:




Cabled Ribby Cardigan
Yarn: Jo Sharp Silkroad Aran Tweed, Enamel, 10 skeins
Needles: Denise US9 and US 10.5
Pattern: inspired by the ChicKnits 2x2x3x1, original version
Started: November 8, 2004
Finished: November 29, 2004
I didn't start my dad's scarf. Instead I cast one for a sari silk/random black striped scarf for my cousin.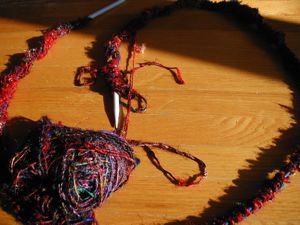 I'm going to use a couple of different yarns for black stripes, probably – one, because I don't have enough silk for the whole scarf (I don't think) and two, to sort of tone down the whole thing. I'm not actually that sure if she's into…colour, but who wouldn't love the sari silk??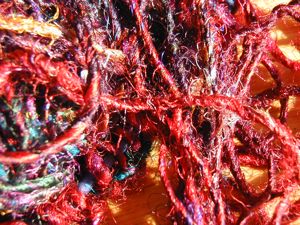 And one last shot which I like quite a lot, of the verrrry beginning (I haven't finished casting on!) of the cotton capelet for my mom.