The Retro-Prep is done!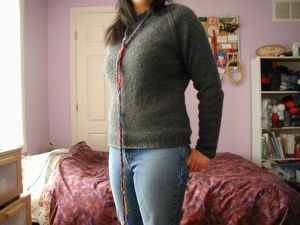 I really didn't try to cut off my head, I just need something taller to put my camera on…
The Rachael!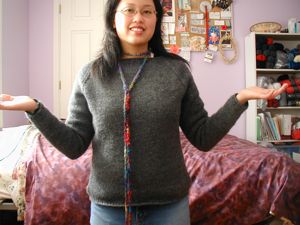 And here's a flat shot, for completeness – the other pictures are better for the true colour.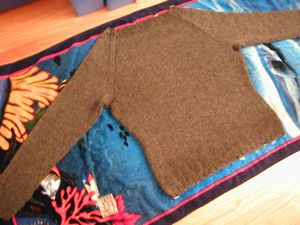 Retro Prep Pullover
Pattern: Interweave Knits, Fall 2002 (?)
Yarn: Elann Highland Wool, Oxford Grey, about 9 skeins
Needles: US 5 & 6 Denises
Started: January 26, 2005 – delayed due to broken needle for a bit
Finished: March 1, 2005
It fits perfectly! Love the shaping and the sleeves. I modified the neckline slightly, but otherwise I just followed the pattern. One side of the bottom hem was flipping up a bit today because I was impatient to wear it, and that side wasn't completely dry this morning. It's being pinned down now, for next time. I'll definitely be making this again, probably in cotton.
Oh, and that necklace/lariat thing, it's a crocheted chain out of Mango Moon sari silk. Love, love, love that stuff.