I'm not quite finished, but I am getting there!
First up, my dad's scarf is done. It needs to be Eucalan-ed and blocked out quite a bit – the edges are a bit ruffled, and it needs more length.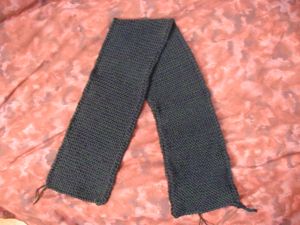 I also finished the "not-knit-round scarf" from Sally Melville's Book 2: The Purl Stitch. It's pretty, but I don't know if it'll be big enough if I sew it up – I'm thinking of adding ties and making it more of an open capelet.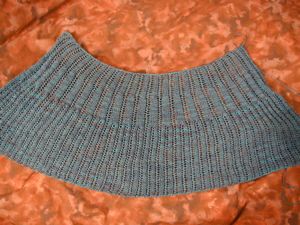 A woman at Second Cup came up to me today to ask what stitch I was doing. It's purdy.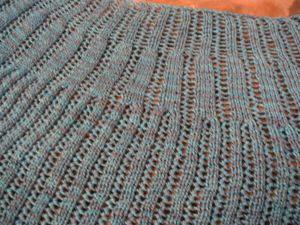 Let's see, what else…oh, I made a scarf for a friend's birthday on Friday, out of one strand of eyelash and one of Eros, and 20 mm needles. Dang, that goes fast! No picture of the scarf, but I did have some leftovers. I'm thinking of using them for ribbon on gifts.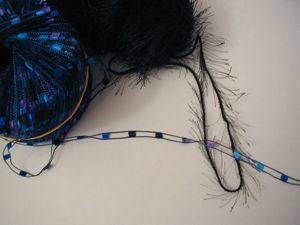 I'm almost up to the pinky on the Koigu glove, version 2, and it fits much better this time around. Saturday night at dinner (at my aunt's house), I worked on those legwarmers I started a few days ago, and even worked a few rows on the Must Have. I'm aiming to get the Must Have done over the holiday, and I really want to make Clapotis soon too. I've also really taken a liking to Cross-country, so that's something to think about as well!