So I took a whole bunch of photos, but almost ALL of them were blurry. And seeing as how I'm too tired to take more…here the best ones.
My tall socks – sport weight socks go fast! Especially since I changed my needle to the Garnstudio one. Still a good amount of yarn left in the first skeins, and I've got three for each – we'll see how tall these socks can get! I'm almost to the point where I need to add increases, but I don't want to do too many for fear of them falling down.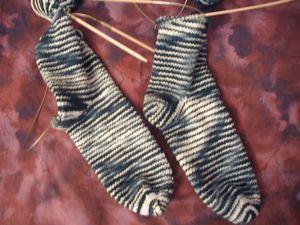 And check out that 'not-based-on-a-pattern' short-row heel!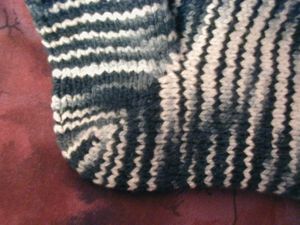 I'm going to try and finish up the punk vest this weekend, but I've got a ton of work to do. Oh, and I'm a couple inches into the body of my modified Retro-prep, too. Better photos later this weekend. Must go to bed…