So today on my way home from school, I stopped off at Lewiscraft with the intention of buying a crochet hook to crochet my dad's christmas present scarf (just for a change). I ended up buying…nothing. I then went to Coles, and they had the new Interweave (we sold out at the store before I had even gotten mine!) but I didn't buy it. I even went to Shoppers to get some Coke and Bawls, and I didn't get anything. Zip. Zilch. Nada.
I just wasn't in the mood to buy anything. So maybe the universe is trying to balance itself out from that spending spree I had the last couple weeks.
I am going to have a credit card bill this cycle, though, because look what came today:
The Cotton-Ease I ordered from discountyarnsale.com the first week of October. Shipping was pretty steep ($18 USD) but I didn't have to pay any taxes or duty or anything, it just showed up. So yeah…even more yarn without concrete plans. I don't even have anywhere to put it! Jane: I'll email you. If you don't hear from me tonight/tomorrow, you email me!
Here's the hat I started for my cousin, in black Mission Falls cotton.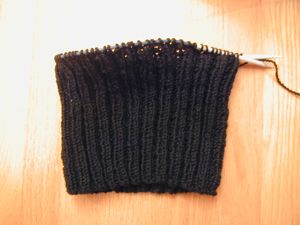 I'm making it up as I go along, but I may have to rip back the crown – I have a sneaking suspicion that I'm not decreasing fast enough. We'll see.
EDIT (9:45pm): I finished the hat, but yup, it's been ripped back to before the decreases. It's too friggin' shallow! I'll add another 1.5-2 inches before starting the decreases again.
And just for kicks, here's attempt #1 of my grandfather's sideways garter scarf.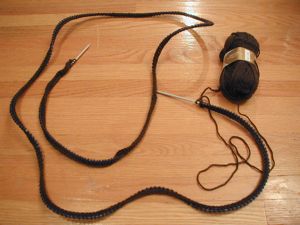 That's a 100 inch circular, people. A 52″ Denise cord plus another 40″ one (plus the needle tips). And it still wasn't completely stretched out. Hi-larious. I haven't had that much time to work on it, but I'll be knitting it in lectures tomorrow so I should be able to get a few rows done.
Oh, and one more little thing – I was trying really hard to come up with a yarn to use to knit my mother a capelet for Christmas (I gave her the handwarmers for her birthday). Then I realized – I can just use that Blue Heron cotton that I've got. I'll use it doubled. Must get on that…
Monday only? At the end of every weekend I feel as though I haven't had one.