Drat. I thought I had gotten the picture of my kitty hat in before the camera died, but apparently not. Anyway, it's just up to the start of the decreases and the batteries are charging. Picture tomorrow.
Last night, when I should have been studying, I finished the second sleeve of my ribby and about an inch of the body. So, just another 3 inches or so on the body, and then I can join the pieces. It's been cool, so I'm kind of looking forward to having this sweater.
The sleeves, taken shortly before the second one was finished: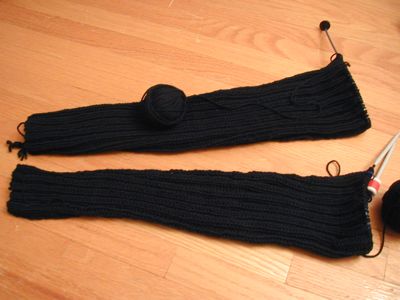 They're the same size, finally!
It has come to my attention that the date on my entries looks like crap in Internet Explorer (I use Safari or Firefox). Any ideas on how to fix this?
And, randomly – I looove coffee. I stopped drinking it for awhile for no good reason, but I'm lovin' it again. Really gives me a nice boost.
P.S. Anyone wondering about my test today – it was a bit like standing before a death squad, before they kill you. Tortuous. Ah well, it's over now.